Summer Solstice Offer | Nurturing Youth

Applicable from 01/04 until 31/08/2023

Hotline 19002633 (key 2) to book

Tickets include Public Onsen bathing and Japanese buffet meals.
NURTURING YOUTH WITH THE SUMMER SOLSTICE PACKAGE 
Yoko Onsen Quang Hanh is headed for a miniature Phu Tang, where you can feel the culture of the cherry blossom country. It's also a place where you can find more love when you're slowing down, listening to your body, recovering your vital energy, and more importantly, taking care of health in the right way in terms of longevity.
Onsen Experience and Standard Japanese Buffet – price at 1,125,000/person (applicable on all Friday holidays) from 1/4/2023
The emotional season has come, and the heart needs to be elevated. Don't miss the experience of relaxation in the Japanese space in the middle of the valley, along with the delicate Onsen art, bringing the journey of "body - mind - soul" complete.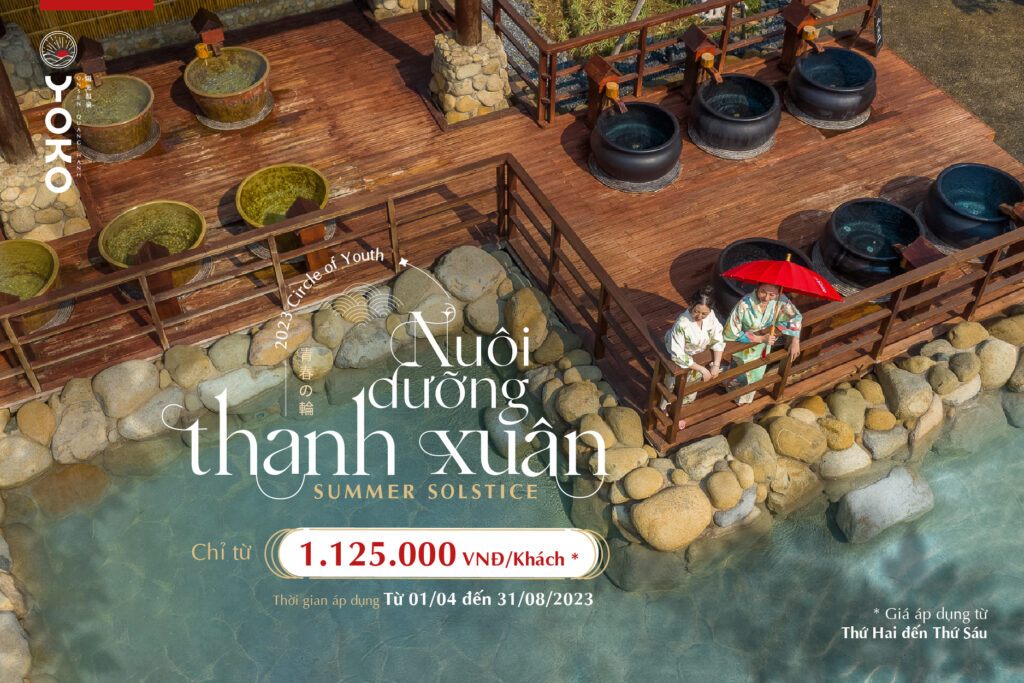 A relaxed, gentle emotional chain of natural hot minerals care and love your body as the true "intention" of the Summer Solstice package.
Price for the week: 1,125,000 VND/person(*)
Price for the weekend: 1,600,000 VND/person
(*) Tickets include Public Onsen bathing with 30 swimming pools and Japanese buffet meals.
Applicable from 01/04 until 31/08/2023
The season of health and well-being has come! - It's time to regain energy and a beautiful body with the hot mineral at Yoko Onsen Quang Hanh.
Contact Yoko Onsen Quang Hanh or Hotline 19002633 (key 2) to book today!